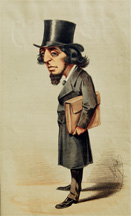 The Right Honourable
James Stanfeld
April 10, 1869

"Pour encourager les autres."
$35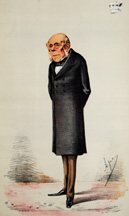 The Earl of Clarendon
April 24, 1869

"To say that he is the best foreign minister in the country is not much as foreign ministers go; but as times go it is a great deal."
$35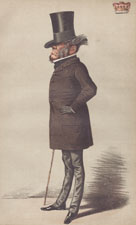 Viscount Sydney
May 1, 1869

"He received the Royal Commands and lengthened the skirts of the Ballet."
$40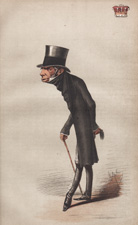 Earl Grey
May 8, 1869

"A privileged person."
$50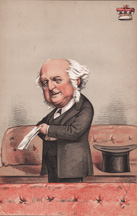 Lord Westbury
May 15, 1869

"An eminent Christian Man."
$35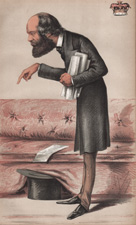 The Marquis of Salisbury
July 10,1869

"He is too honest a Tory for his party and his time."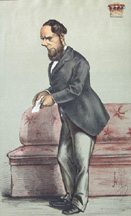 Earl Kimberley
July 16, 1869

"He improves, if possible, but he accepts always the accomplished fact."
$30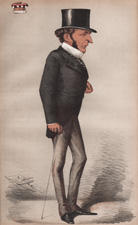 Lord Cairns
July 31,1869

"When Birth cannot lead Brains must."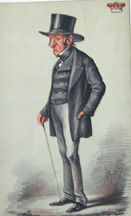 The Duke of Somerset
August 7, 1869

"Proud and sincere, yet liberal and just, he refused to serve under the most humble of premiers."
$30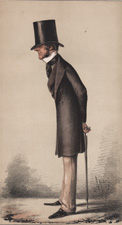 The Right Honourable
Chichester S. P. Fortescue
August 14, 1869

"He married Lady Waldegrave and governed Ireland."
$30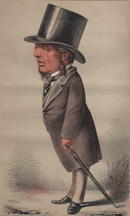 Mr. A. S. Ayrton, M.P.
October 23, 1869

"Mind and Morality."
$35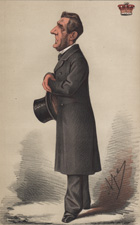 The Earl of Shaftesbury
November 13, 1869

"He is not as other men are, for he is never influenced by party motives."
$25
(see condition notes)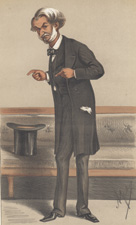 The Right Honourable Lord John J.R. Manners, M.P.
November 20, 1869

"Let arts and commerce, laws and learning die, But leave us still our old nobility."
$45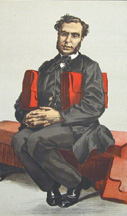 M. Emile Ollivier
January 15, 1870

"The Pariliamentary Empire."
$38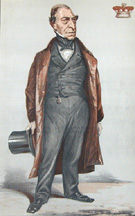 Lord Chelmsford
February 5, 1870

"It is hard to be believed that two political leaders should fall out only because their wives cannot agree."
$32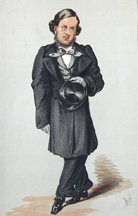 Mr. W.G.G.V. Vernon-Harcourt, M.P.
June 4, 1870

"He was considered an able man till he assumed his own name."

$35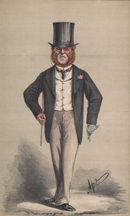 Mr. E.N. Knatchbull-Hugessen, M.P.
June 11, 1870

"A promising apprentice."

$30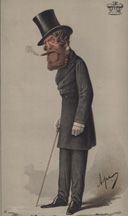 Viscount Ranelagh
June 25, 1870

"He has succeeded in volunteering."

$30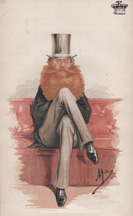 Earl Spencer
July 2, 1870

"The Messenger of Peace."

$45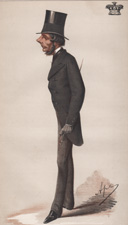 The Marquis of Westminster
July 16, 1870

"The richest man in England."

$50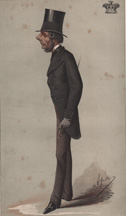 The Marquis of Westminster
July 16, 1870

"The richest man in England."

$15
(see condition report)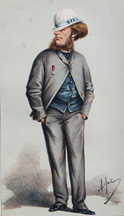 Lord Elcho
July 23, 1870

"His course has been if not a wise, yet a consistent one, and dictated by conscience only."

$35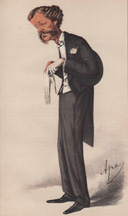 Lord Henry G. C.
Gordon-Lennox
July 30, 1870

"A man of Fashion and Politics."

$35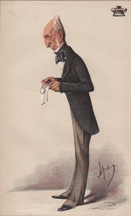 Lord Halifax


Aug. 6, 1870

"He fell off his horse into Peerage."



$45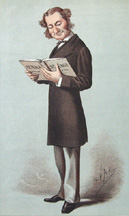 Lord Robert Montagu
Oct. 1, 1870

"A Working Conservative."

$40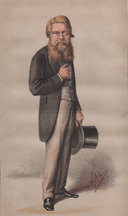 Sir Stafford Northcote
Oct. 8, 1870

"He does his duty to his party, and is fortunate if it happens to be also his duty to his country."

$35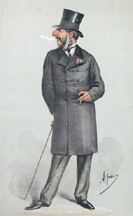 The Hon. J. C. Vivian


Nov. 5, 1870

"Always pleasant, always genial."



$30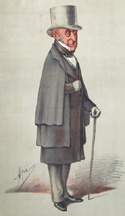 Sir Roderick Impey Murchison
Nov. 26, 1870

$28
(slight damage, see enlargement)
also see Doctors & Scientists for possible availabilty